Date: <TBA>
QTTY: 30 people 
Transportation: Air-conditioned bus with seats for 35
Day 1: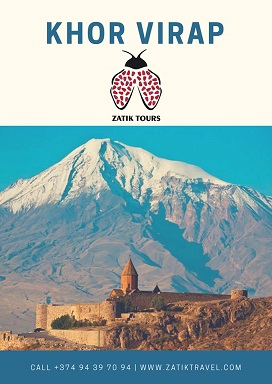 Tou start the trip by discovering the south region of Armenia
You start the trip traveling from Yerevan to the Khor Virap monastery. Located close to the biblical Mount Ararat, Khor Virap is the historical monastery where "St. Gregory the Illuminator", was kept underground, by the Armenian King Trdat III, for trying to spread Christianity throughout the country. From Khor Virap, you will be traveling to the wine capital of Armenia, Areni, where the first winery in Armenia was discovered in the Areni cave. You will be doing some wine tasting , and have a delicious lunch.
Accomodation Hotel in Vayk
Day 2: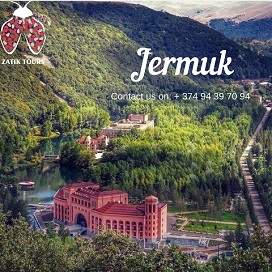 You start the day by taking a ride to the magical city of Jermuk.
Jermuk is famous for being a spa and health city in Armenia. Its beautiful scenery and mountains will make any visit worthwhile. You will see the stunning Jermuk Waterfall, as well as the old city. After a traditional Armenian Lunch in Jermuk, you will continue sightseeing in Jermuk and have some free time for various activities and return to Yerevan.
TOTAL PRICE: 782,500 AMD
Price includes:
Guide Service: Armenian and English
Entrance to the Areni winery* (tour and tasting: 1500 AMD/ person)
Stay in hotel in Vayk for 1 night*: 420,000 AMD (30 people + driver + guide)
Transportation by a 35 pax air conditioned and comfortable bus
310,000 AMD (Transportation + Guide Service)